Stage ∞
Posts: 3855
Joined: Sun Jan 04, 2004 5:41 am
Car(s): 2009 RX-8 GTR3
Location: Pacifica
Contact:
Haven't gotten a response yet.
Stage 4
Posts: 3864
Joined: Thu Jun 12, 2008 11:57 pm
Car(s): 97 STO Miata
Car(s): '67 IH Travelall
Car(s): '93 Audi S4
Martin, I owned an AW11, and have driven several SW20's... as someone else pointed out the 4AGE is one of my favorite engines ever. The main thing I don't like about the SW20 is the weight, a t-top turbo car is pushing 3000lbs. Even the AW11 was heavy for it's size, though in typical Toyota fashion they're pretty stout. I got punted across 4 lanes in mine by a 5 series BMW (hit and spun me twice when he tried to pass on the shoulder and lost control... then freaked and kept his foot on the floor). Drove the car for another year until it got stolen, just replaced the drivers door, tweaked the rear fender lip a bit and had it aligned.
Bill J
1997 Miata STO, 550/350 FCM adjustables, 15x9 6UL, 225/45-15 RS3's, 6spd, turbo in progress...
1967 International Travelall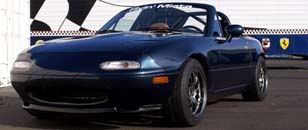 ---
Return to "Non-Roadstary Discussion"
Who is online
Users browsing this forum: No registered users and 2 guests