Stage ∞
Posts: 3855
Joined: Sun Jan 04, 2004 5:41 am
Car(s): 2009 RX-8 GTR3
Location: Pacifica
Contact:
http://www.youtube.com/watch?v=c6pPhcV42Ic
I like how there is a rotary demonstrated.

Stage 2
Posts: 596
Joined: Mon Dec 22, 2008 10:53 am
Car(s): 94 Miata
Car(s): Toyota Corolla
Location: Richmond / Pinole
NCR Supporter
Posts: 4406
Joined: Mon Jun 20, 2011 10:00 am
Car(s): BWAAAAAAAAHHH!!!
Car(s): r srs bsns
Location: The waters of Lake Minnetonka
So....watching party at your place?

Edit: definitely just dropped what I was doing and watched the whole episode on my phone. No subs, but I could piece together what was being said from my memory of the manga and the few words I know.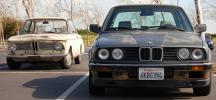 DISCLAIMER
:
I make no apologies.
Stage 2
Posts: 960
Joined: Sat Jul 30, 2011 5:50 pm
Car(s): M
Car(s): X
Car(s): 5
Location: Delebio
---
Return to "Video Cutting Room"
Who is online
Users browsing this forum: No registered users and 1 guest