NCR Supporter
Posts: 1890
Joined: Tue Nov 03, 2009 6:50 pm
Car(s): Track day 95 M
Car(s): 2008 A4 Avant
Location: SF
He says it will lighten the valve train. I'm on the fence. What do you all think?
95 M turbo'd track day car - 2008 A4 Avant (still beloved DD)
"Every time I learn something new, it pushes some old stuff out of my brain."
- Homer Simpson
NCR Supporter
Posts: 4377
Joined: Mon Jun 20, 2011 10:00 am
Car(s): BWAAAAAAAAHHH!!!
Car(s): r srs bsns
Location: The waters of Lake Minnetonka
Damn, Mr. Moneybags.

Not sure how y'all got on the order list for them things, but if you got it, why not?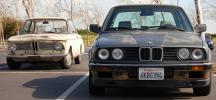 DISCLAIMER
:
I make no apologies.
NCR Supporter
Posts: 6376
Joined: Sun Jan 06, 2008 12:26 pm
Car(s): Too damn many
Location: Setting shit on fire
Just make sure he gets a big chamfer on those holes, what for enhancing the coriolis effect. Oughta make 'er chooch right goodly.
67 Volvo 122s | 71 Pontiac Grand Prix | 88 Thunderbird Sport | White '90 A Pkg | '95 PEP | 03 GMC Sonoma
Scandinavian Flick wrote:I like women because kitchen
TheOtherRedMiata wrote:I'm a bitch!
Moderator
Posts: 10312
Joined: Sat Feb 23, 2008 2:08 pm
Car(s): 2016 Crowd Controler
Car(s): 2009 Interceptor
Car(s): 1984 Tool Shed
Ooh, fancy. But, if you're really trying to lighten the valve train, why not just do away with them altogether? That way you also don't have to run the risk of this:
Did you go with it? A buddy here is thinking the same idea. We are gonna take a look at it right after we finished installing the
Smittybilt
parts on the current jeep project. It seems getting them done altogether is better.
---
Return to "Power and Performance"
Who is online
Users browsing this forum: No registered users and 1 guest