Stage 4
Posts: 3868
Joined: Fri Mar 21, 2008 6:35 am
Car(s): nothin special
Location: the City
Feel like I've asked this question here before. I was going through some parts sitting in my garage and found two sets of old Bilsteins for the NB: (1st set) was oem on the car with 75k on the odo (2nd set) used set paired with H&R race springs. Both sets are worn. Should I get them rebuilt (worth the time and $$$?), sell them (are they worth anything?) or toss them?
NCR Supporter
Posts: 4414
Joined: Mon Jun 20, 2011 10:00 am
Car(s): BWAAAAAAAAHHH!!!
Car(s): r srs bsns
Location: The waters of Lake Minnetonka
Some autocrosser might take them, may as well toss them on CL for poops and giggles. I wouldn't bother shelling out for a rebuild.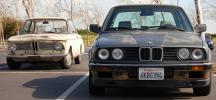 DISCLAIMER
:
I make no apologies.
---
Who is online
Users browsing this forum: No registered users and 1 guest