NCR Supporter
Posts: 896
Joined: Wed Sep 23, 2009 9:40 pm
Car(s): Miata
Car(s): Golf
Contact:
Got some new kicks for the car.

White NB 99 -Daily-
Stage 4
Posts: 2632
Joined: Mon Jul 26, 2010 12:10 am
Location: San Jose
I prefer your old wheels. However, those are nice.
brkinshiz wrote:Great. Now there's Pick-N-Pull on my cheese.
Douche Bag Boy wrote:

brkinshiz wrote:No one wants you to flip and die [. . .]

Speak for yourself.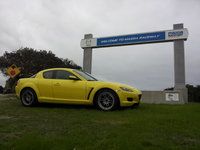 Stage 3
Posts: 2228
Joined: Tue Jan 20, 2009 11:49 pm
Car(s): 99 nb
Location: Union City / Fremont, ca
I like how you used my photo
---
Return to "Member's Rides/Proj3ktz"
Who is online
Users browsing this forum: No registered users and 2 guests